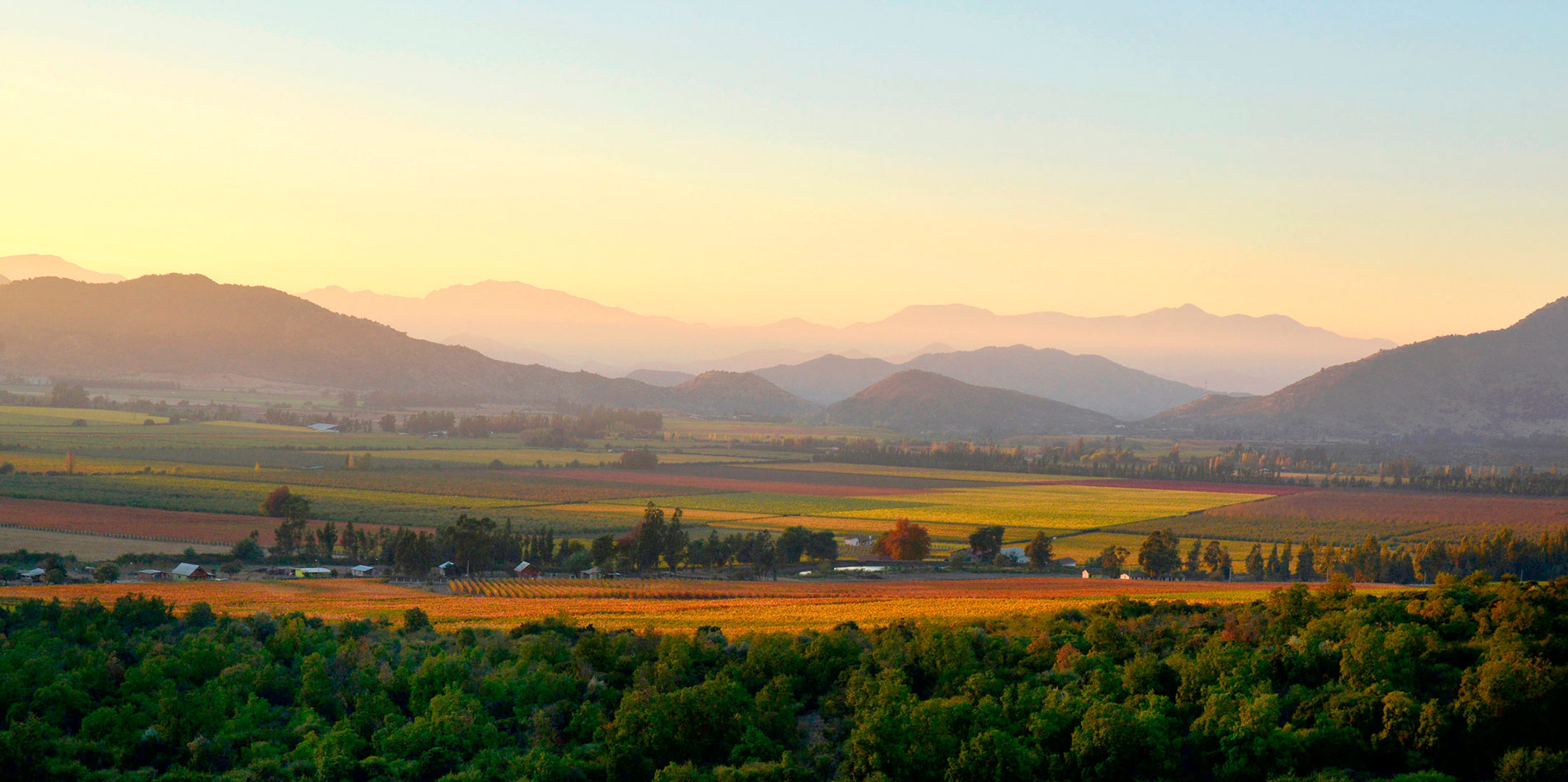 COLCHAGUA
VALLEY
The Colchagua Valley is located in what we call Zona Central in Chile, inside the O'Higgins Region. It is a "transversal valley", meaning that it is a valley formed by a river (in this case Tinguiririca River) that goes from The Andes to the West, flowing into the Pacific Ocean. It is one of the most recognized wine valleys in the world.
Nowadays, the Colchagua Valley has leadership in the fine wine production in Chile, with a wide and international sales projection, as a touristic destination with great attractive and mild weather.
Here you will find our company's vineyards, where for more than 30 years Alberto Siegel planted the first vineyards, which were converted into our Viña Siegel. Today we have more than 700 planted hectares geographically placed from the foothills of The Andes to the valley coast zone.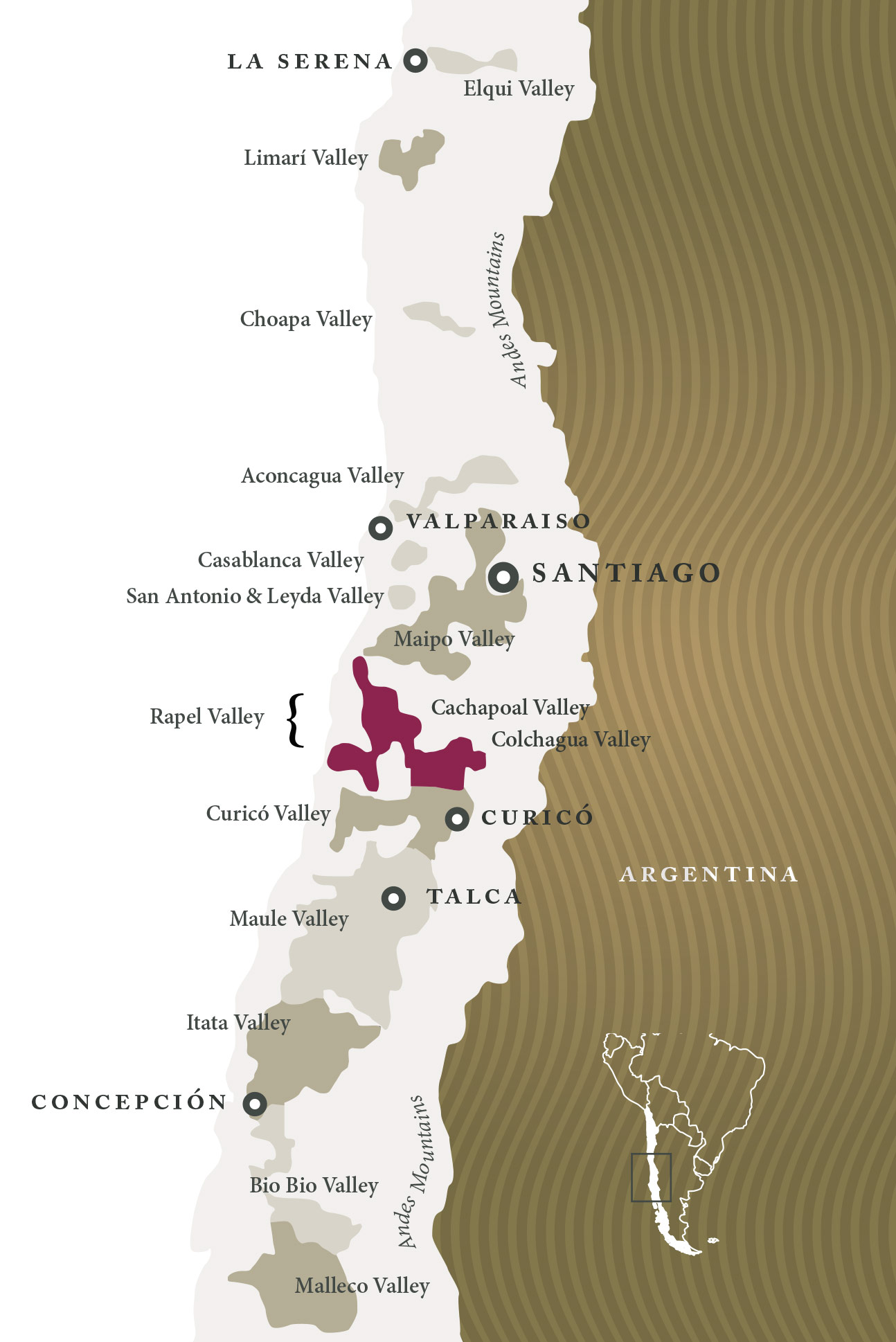 Varietals: Cabernet Sauvignon, Carménère, Syrah, Malbec, Petit Verdot, Carignan, Grenache, Mourvèdre and Sauvignon Blanc.
Altitude: 360 meters above the sea level
One of our main vineyards is located at the Los Lingues zone, Alto Colchagua, at the salient part of The Andes.
An exclusive, attractive, and fascinating place for its landscapes characterized by the excellent quality of its grapes where the unique valley typicality is at its best expression. It is a well-recognized zone in Chile for wine production due to its ground and weather characteristics, resulting in structured wines of excellent quality, with great color and body, soft tannins of fresh and balanced fresh fruit.
At our land in Los Lingues, we found the perfect conditions to produce concentrated and elegant wines that express the highest quality Chile can produce. In the year 2010, a new hill was incorporated into this property, giving the grace of sun explosion diversity, particularly a north exposure that adds more freshness.
Varietal: Cabernet Sauvignon
Altitude: 360 meters above the sea level
Another of our main vineyards is located in Palmilla, municipality of Chile, in the province of Colchagua, deeply linked to the history of colonial Chile, land of strong traditions in the Chilean countryside.
In this vineyard of 60 hectares planted with Cabernet Sauvignon, there is our Guest house, which has been part of our Viña since 1997.
The wines we obtain from this vineyard are characterized by being more concentrated, with a ripe fruit flavor and their sweetest tannins.
SAN ALBERTO
DEL PERALILLO
Varietals: Cabernet Sauvignon,Cabernet Franc, Merlot, Carménère, Syrah, Malbec, Viognier e Petit Verdot.
Altitude: 107 meters above the sea level
Located 6 kilometers to the countryside of Perailillo at a sector called Parrones, by the extreme coast of the Colchagua Valley, this is a privileged place because of its weather with coastal influence, which allows us to produce excellent quality wines. Its climate freshness helps the vines to have a longer and late fruit maturity and counts with a magnificent ground only for the cultivation of the vine, originated by the volcanic eruptions of the Ring of Fire, located in the High Andes. Here we have 205 hectares planted with 8 different varieties. The wine that we obtain from this vineyard is fresh, soft, and elegant with a quick evolution and easy to drink.

The slower and late maturity helps to maintain the fresh fruit notes and wines with lower structure due to volcanic ground.